WESG 2018-2019 Online Qualifiers Begin: Hearthstone Qualifiers Women's Group
2018-10-20 18:50:00
World Electronic Sports Games (WESG) — is an international tournament, organized by the Alisports, including popular eSports disciplines such as CS:GO, Dota2, StarCraft II, Hearthstone, Vainglory and PES. WESG was launched for the first time in April 2016, and now tens of thousands of players from all over the world participate in it.
In 2017 WESG added women's group in the CS:GO and Hearthstone. For the new WESG season, world top teams and players will be invited to the WESG Grand Final.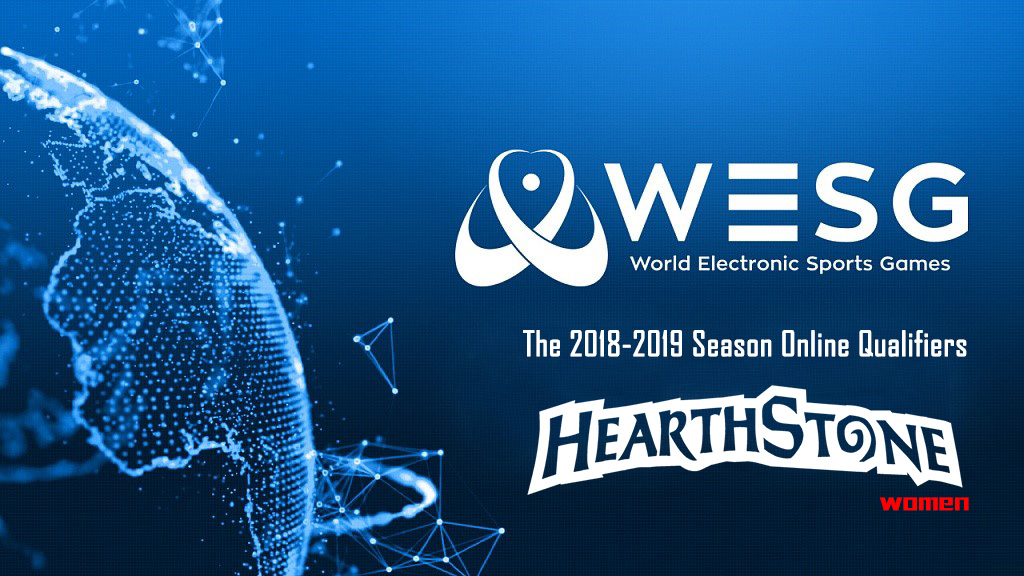 WESG differs from other tournaments (participants with the same nationality form a team and compete for national glory*). These teams and players will compete for a prize pool of $2.5 million at the Grand Final in China.
*Only players with the same nationality may take part in the corresponding tournament, for example, only residents of the People's Republic of China can participate in WESG China National Qualifiers.
APAC Region:
Japan, East Asia, Mid Asia & South Asia, West Asia, (Japan, Chinese Taipei, Mongolia, South Korea, Turkmenistan, Uzbekistan, Kazakhstan, Kyrgyzstan, Tajikistan, India , Pakistan, Afghanistan, Maldives, Bangladesh, East Timor, Nepal, Sri Lanka, Bhutan, Iran, Iraq, United, Arab Emirates, Yemen, Syria, Saudi Arabia, Qatar, Palestine, Oman, Lebanon, Kuwait, Jordan, Bahrain). The winner from online qualifier will compete with the winners from Hong Kong, Macau, and Oceania for the 1 slot to WESG Grand Final.*. 1st Open qualifier: 17-18 November. 2nd qualifier 23-25 November.
America Region:
Brazil, Peru & Mexico & other N&C America, South America (Brazil, Peru, Mexico, Antigua and Barbuda, Bahamas, Belize, Costa Rica, Cuba, Dominica, Dominican Republic, Grenada, Guatemala, Haiti, Honduras, Jamaica, Panama, Saint Kitts and Nevis, Saint Lucia,
Saint Vincent and the Grenadines, Salvador, Aruba, Trinidad and Tobago, Argentina, Ecuador, Colombia, Venezuela, Guyana, Surinam, Bolivia, Paraguay, Uruguay, Chile). 1 Slot to Grand Final*. 1st Open qualifier: 9-11 November. 2nd qualifier 17-18 November.
Europe Region:
Austria, Serbia, Iberia, Poland, Turkey, Ukraine + CEE + SEE + South-East CIS + Turkey, Sweden + Denmark + Baltics + Scandinavia, Benelux + France + Monaco + The UK and GB, German + Central Europe (Austria, Serbia, Spain, Portugal, Andorra, Poland, Turkey, Ukraine, Belarus, Bulgaria, Moldova, Romania, Albania, Bosnia and Herzegovina, Montenegro, Greece, Cyprus, Israel, Croatia, Macedonia, Slovenia, Kosovo, Armenia, Azerbaijan, Georgia, Norway, Finland, Estonia, Latvia, Lithuania, Sweden, Denmark, Belgium, Luxembourg, Netherlands, France, Monaco, Great Britain, Ireland, Iceland, Germany, Switzerland, Liechtenstein, Czech Republic, Slovakia, Hungary, Italy, San Marino, Malta). 1 Slot to Grand Final*. 1st Open qualifier: 8-9 November. 2nd qualifier 16-18 November.

*In qualifiers with 1 slot to Grand Final - Winners each open qualifier will fight for this 1 spot

WESG 2018-2019 Grand Final will be held in China in Spring 2019 by Alisports. During the Grand Final, each participant can have the availability to computers for all duration of the tournament.
Total prize pool on Grand-Final: $35 000. Prize pool distribution Hearthstone Women's Group:
1 Place - $20 000

2 Place - $10 000

3 Place - $5 000
Link to registration: bit.ly/2OyLUry
For questions related to the online qualifiers, please contact – discord.gg/NZj534K
HearthStone Slots Distribution - Women
China
China

China

1
Subtotal
1
APAC
South East Asia

Philippines

1

Malaysia

Indonesia

Vietnam

Laos

Myanmar

Brunei

Cambodia

Singapore

Thailand

Hong Kong

Hong Kong China

1
Macau

Macau China

Japan
Japan
East Asia
Chinese Taipei
Mongolia
South Korea
Mid Asia & South Asia
Turkmenistan
Uzbekistan
Kazakhstan
Kyrgyzstan
Tajikistan
India
Pakistan
Afghanistan
Maldives
Bangladesh
East Timor
Nepal
Sri Lanka
Bhutan
West Asia
Iran
Iraq
United Arab Emirates
Yemen
Syria
Saudi Arabia
Qatar
Palestine
Oman
Lebanon
Kuwait
Jordan
Bahrain
Australia

Australia

New Zealand & Pacific Islands

New Zealand

Palau

Papua New Guinea

Kiribati

Samoa

Fiji

American Samoa

Solomon Islands

Tuvalu

Tonga

Vanuatu

Nauru

federated states of micronesia

Subtotal
2
America
USA

USA

1
Canada

Canada

1
Brazil
Brazil
1
Peru & Mexico & other N&C America
Peru
Mexico
Antigua and Barbuda
Bahamas
Belize
Costa Rica
Cuba
Dominica
Dominican Republic
Grenada
Guatemala
Haiti
Honduras
Jamaica
Panama
Saint Kitts and Nevis
Saint Lucia
Saint Vincent and the Grenadines
Salvador
Aruba
Trinidad and Tobago
South America
Argentina
Ecuador
Colombia
Venezuela
Guyana
Surinam
Bolivia
Paraguay
Uruguay
Chile
Subtotal
3
Europe
Russia

Russia

1
Austria
Austria
1
Serbia
Serbia
Iberia
Spain
Portugal
Andorra
Poland
Poland
Turkey
Turkey
Ukraine + CEE + SEE + South-East CIS + Turkey
Ukraine
Belarus
Bulgaria
Moldova
Romania
Albania
Bosnia and Herzegovina
Montenegro
Greece
Cyprus
Israel
Croatia
Macedonia
Slovenia
Kosovo
Armenia
Azerbaijan
Georgia
Sweden + Denmark + Baltics + Scandinavia
Norway
Finland
Estonia
Latvia
Lithuania
Sweden
Denmark
Benelux + France + Monaco + The UK and GB
Belgium
Luxembourg
Netherlands
France
Monaco
Great Britain
Ireland
Iceland
German + Central Europe
Germany
Switzerland
Liechtenstein
Czech Republic
Slovakia
Hungary
Italy
San Marino
Malta
Subtotal
2
Total
8
*Regions in RED will be held by WESG Partners
WESG official website:
2018.wesg.com/en
WESG social media:
Facebook: https://www.facebook.com/WESGcom/
Twitter:https://twitter.com/wesgcom
Vkontakte: https://vk.com/wesgcom